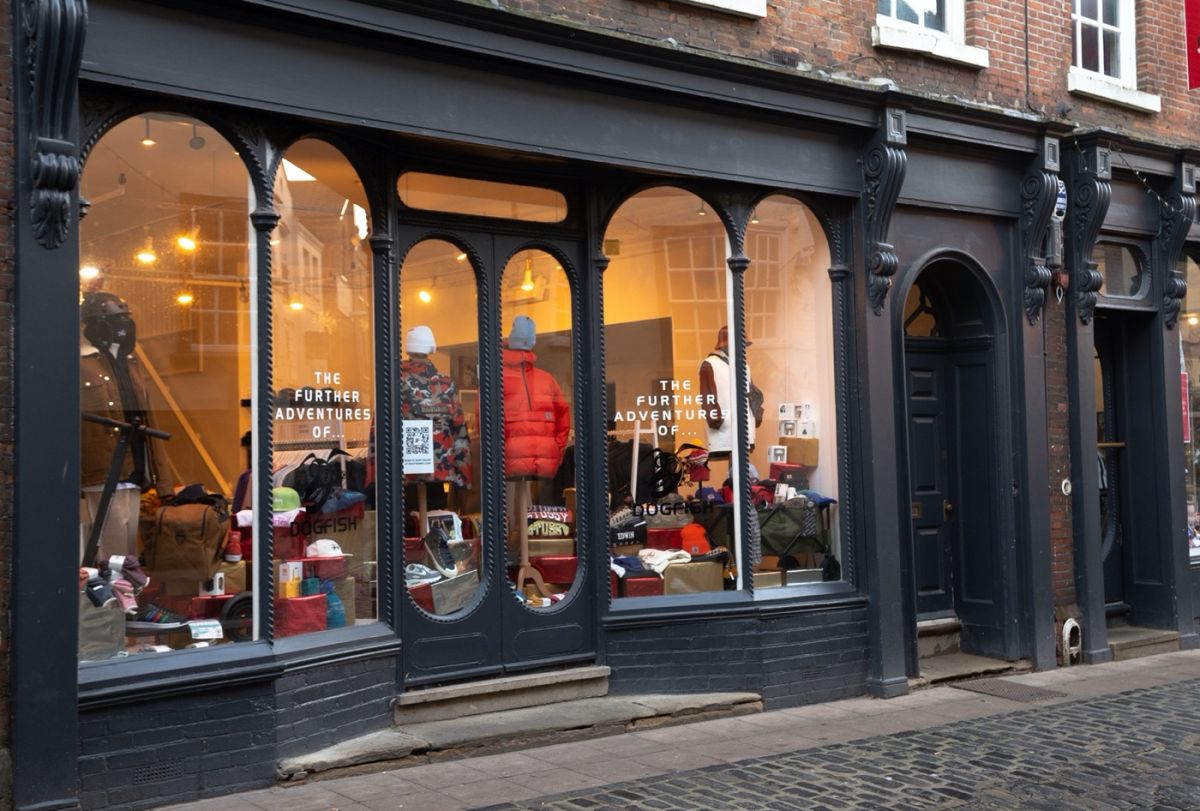 SHOPS
Dogfish, Norwich
and Cambridge
March 2021
We shine a spotlight on some of our most exciting independent stockists around the world. This time, we speak with Nick Snell, the owner of Dogfish.
What's your name and connection to the shop?
I'm Nick Snell, the owner of Dogfish.
Tell us where you are.
We are in Norwich and Cambridge.
How did the shop come to be?
Some 30 years ago, two young friends with a passion for partying, music and fashion needing an outlet for their collective creative dreaming, and in search of that illusive pot of gold at the end of the rainbow to further their fortunes and dreams of bringing something unique to the fine city of Norwich, hatched a plan called Dogfish!
Describe your shop in three words.
Unique, friendly vibes.
What makes your shop so special?
We pride ourselves on giving a very personalised and friendly honest shopping experience with no bullshit salesman tactics and are always looking to keep our offer eclectic and interesting enough for our very broad customer demographic. Plus, of course, the experience of shopping in a uniquely designed space has given Dogfish its reputation for an enjoyable and pleasurable vibe.
Pick a song that represents your shop.
Too many great tunes have identified the Dogfish vibe over the 28 years of its lifetime and so to pin-point one is just too difficult, but Hip-Hop, Jazz, Funk & Soul have always been a dominant sound in the stores. Old skool classics such as Pharcyde's Passin' Me By, Tribe Called Quest's Midnight Marauders or Massive Attack's Unfinished Sympathy were always to be heard in the early days, with icons such as Prince & Bowie and the likes of the Bluenote sound underlining our vibe. Our sound is constantly evolving with our staff's tastes which keeps the two old-timers up to date.
Tell us something not many people know about your shop?
Over the years we have converted the Norwich store into a music venue and played host to many DJs and live acts and also hosted our own long running club nights - The Marvel and The Plugg - which showcased up and coming local acts as well as world-renowned bands and DJs. We've been lucky enough to play host to great DJs such as Giles Peterson and Norman Jay, Alexander Nut and live acts like Jurassic 5's Akil, Pharoahe Monch, Submotion Orchestra and Crazy P.
Who are your favourite independent neighbours – your record shops and live music venues?
Favourite Barista: Strangers Coffee Co
Favourite Record store: Soundclash Records
Favourite club venue: Gonzo's Tearoom
Favourite live music venue: Norwich Arts Centre
Favourite Festival: WildPaths Festival (city wide festival in October Norwich)